Digital Transformation - Driving Success
March 9, 2022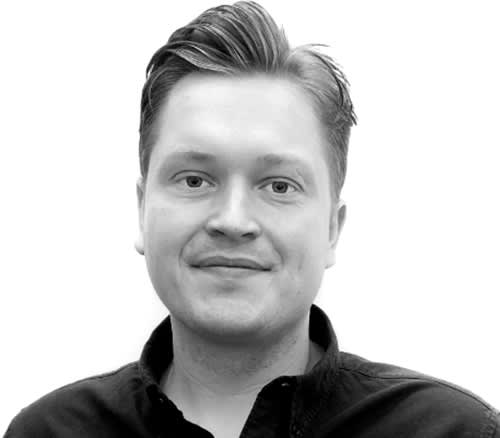 Sam Reffitt
As we enter 2022, the pace of digital change is at an all-time high and shows no evidence of slowing down. The pandemic has not only reshaped the customer journey, it has also transformed the way employees work and collaborate. To address these changes and adapt to a swiftly evolving digital marketplace, companies are rapidly digitizing their internal operations, supply-chain management, and customer interactions. This broad, cross-industry digital transformation is fundamentally changing the way businesses operate and deliver value to their customers
This three-part series explores the key findings from our recently published research report The State of Digital Transformation, where we delve into the world of DT, asking leaders questions about their strategies. Throughout, we address questions around driving success, building the right teams, and working with third parties.
These findings could provide the context you need for defining your digital transformation endeavors, giving you confidence as you shape your company's destiny.
Part 1: Driving Success & Digital Transformation
Towards the end of last year, I wrote a blog piece, Investing in Your Technology and Team But Still Not Seeing the Desired Results? Much of it focused on Digital Transformation and certain barriers companies face when commencing a new digital initiative. A key outtake:
"Technology and knowledge require investment and this investment isn't trivial. Even when you do invest in technology and team knowledge, there is no guarantee you will reap the benefits."
In January 2022 we decided to explore this sentiment and the topic of Digital Transformation in more depth, through a research initiative, tapping into the minds of business leaders to understand their thoughts, feelings, and intentions towards the subject. Many of the findings correlated nicely with some of the discussion points I raised last year.
Reassurance is Key
Long story short, if you are a business leader at the helm of your digital voyage you may be reassured by some of the findings. To prove this point, let's start by looking at the most common barriers to digital transformation, outlined by the business leaders we spoke to:
As you can see, a lack of funds and limited internal knowledge were the most dominant responses to this question, which isn't overly surprising, but do obstacles such as those listed here justify a reluctance to accelerate your digital intentions?
"Most businesses are worried about project costs, ease of implementation, and return on investment. These concerns will sometimes arise while the transformation is in process but they usually abate once the transformation is complete. Understanding the lasting implications of a transformation is important for making it through the process. That's not to say there won't be bumps in the road, including a lack of buy-in from leadership, falling behind schedule, and the learning curve of handling new digital programs."
Based on our analysis the resounding retrospective response suggests that those who were able to identify a solution to overcome a barrier are now in a much better place as a result of their transformation.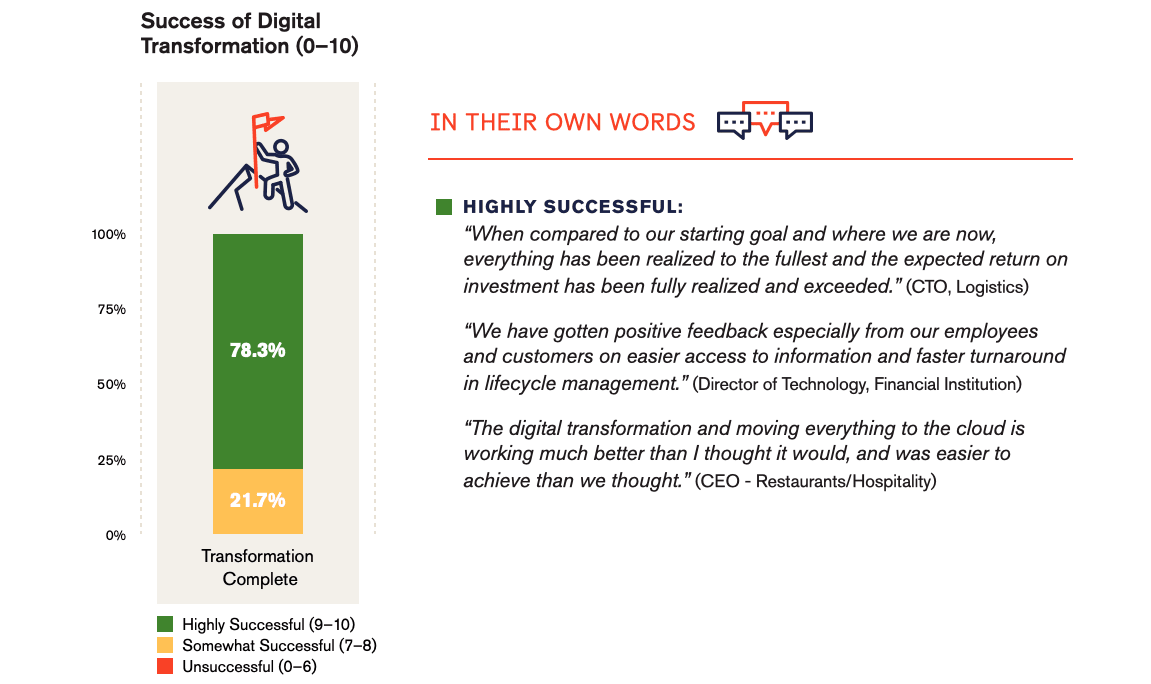 Of those that have taken on DT, almost 100% deemed it a success, with 78% classifying it as highly successful, exceeding expectations. It's evident that those who continue to tread the digital path will be rewarded for persistence.
To Stick or Twist?
As you can see, many of the individuals we spoke to acknowledged that there can be challenges as you head in a new bold direction. Nobody is stating otherwise. But an overwhelming majority of individuals were able to reassure our researchers that if you are willing to commit and not be deterred by the odd obstacle, you will reap the benefits and solidify your business' long-term success.
Part Two Preview
So, you're now content with your path and committed to your Digital Transformation, but what's next? It's time to hold the mirror up and ask the question—does my team have what it takes to succeed?
In part two, we look into the practicalities of executing a Digital Transformation and assess how leaders built their teams for the road ahead.
If it's a fresh perspective you are looking for, we'd be happy to chat about our research, methods, and capabilities. We look forward to hearing from you.